The training, held at the ECG Training Centre of Excellence in Tema, aims to update engineers from sister utility companies in West African countries on ECG's practices and operational protocols.
The 7 week-long training program will focus on Electric Distribution Power Systems Planning, Design, and Operations for Engineers of the Electricity Distribution and Supply Authority of Sierra Leone (EDSA). This program is part of a Technical Assistance Project on Electrical Engineers Training for African Countries, which has been ongoing since 2013 and aims to enhance the training capacity of the ECG Training Centre.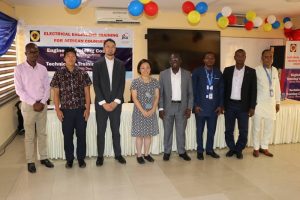 The training program is divided into two parts: Engineering Training and Technicians Training Courses. Twelve engineers and twelve technicians from Liberia, Sierra Leone, the Gambia, and NEDCo (Ghana) will receive technical training in system planning, network design, operation, and maintenance of distribution systems.
The technicians' training will cover maintenance methods for power equipment, while the engineers' training will focus on power system protection and control, as well as distribution system planning and network design.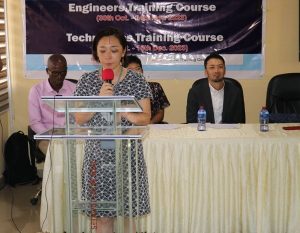 Addressing the participants at the opening ceremony, Ms. Suzuki Momoko, the Chief Representative of JICA Ghana, reiterated JICA's commitment to enhancing energy supply and providing stable access to affordable, clean energy. She highlighted JICA's support for various projects in West Africa, including the reinforcement of substations in Accra and the improvement of the power distribution system in Tamale and Sunyani.
Ing. Godfred Mensah, the Director of the ECG Training School, emphasized the importance of the Training Centre in building capacity for local and international trainees. He highlighted the Centre's accreditation by the National Board for Professional and Technican Examination (NAPTEX) of Ghana and its recognition by the West African Power Pool (WAPP) and JICA as a Centre of Excellence for capacity building in the West African sub-region.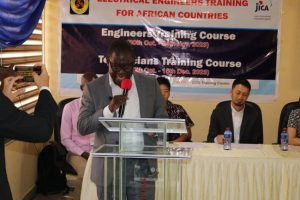 The training program was launched by Ing. Kwadwo Ayensu Obeng, the Deputy Managing Director in charge of Engineering and Operations for ECG. Ing. Obeng expressed ECG's gratitude for being chosen as a center to run the training program and encouraged the participants to take the training seriously. He urged them to become good ambassadors of the ECG Training Centre and to apply the knowledge gained to help manage the electricity supply systems in their home countries.
The training program, funded by JICA, will run until November 24, 2023, for engineers and until December 15, 2023, for technicians. It is expected to enhance the skills and expertise of electrical engineers from African countries, ultimately contributing to the development and improvement of the energy sector in the region.
Source: www.dailyguidenetwork.com
---
Stay With Us
Subscribe to our Newsletter to get the lattest
news relating to ECG